Henry Cavill亲笔签名照片 (第9页共16页):


Henry Cavill success! - July 6th, 2014
Sent: 14th January 2014, LOR, SASE, 2 photos Received: 2nd July 2014, my photos unsigned and one signed photo provided by his agency I like the fact that his agency added some postage and its Henry on this stamps

Do you think its authentic? Adress used: Henry Cavill United Agents Ltd. 12-26 Lexington Street London, W1F 0LE UK - - Sparkly ?

---

发表评论 | 评论 (2)
---
Henry Cavill Success - July 5th, 2014
Sent this sometime in April 2014, and I received back 07/05/2014. I got the same note that the prior success got about him filming BvsS, and he included a stock signed photo. It may not be the the cool photos I sent, but authentic is good enough for me! Used the address on file that is commonly used and reported as success. -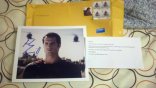 ---

发表评论 | 评论 (2)
---
Henry Cavill - June 29th, 2014
Via Mail ! ! ! - Uploaded with ###://surfmypictures.com:surfmypictures in about 1 Month ! ! ! Check out my Page ! ! https://www.facebook.com/swissautographs

---

发表评论 | 评论 (3)
---
Henry Cavill success - June 3rd, 2014
Sent 28.01.2014 Lor, Sase Received 03.06.2014 Henry Cavill United Agents Ltd. 12-26 Lexington Street London, W1F 0LE UK


---

发表评论 | 评论 (1)
---
Henry Cavill Success! - June 2nd, 2014
Wrote to Henry about 3 weeks ago, sending a letter & SASE. This is my third time of trying him over the past couple of years after not receiving replies the previous times. Received this signed photo of him as Superman today. Really happy with this as I love Man of Steel and he was one of my most wanted. -
---

发表评论 | 评论 (4)
---