Henry Cavill亲笔签名照片 (第1页共16页):


Henry Cavill Success - November 29th, 2022
Sent the first one with SASE, LOR and two 3X6 photos on July 21st, 2022. The second one with SASE only on October 22nd 2022. to: Henry Cavill c/o United Agents Ltd. 12-26 Lexington Street London, UK W1F 0LE Received the package today, November 29th 2022. No photos were returned, so I bet it replied to the second one. Very nice photo to go back to Superman rather than Witcher anymore.
---

发表评论 | 评论 (3)
---
Henry Cavill Success - October 15th, 2022
Sent SASE, LOR and 2 4X6 photos on July 8th, 2022 to: Henry Cavill c/o United Agents Ltd. 12-26 Lexington Street London, UK W1F 0LE Received package on Oct. 14th, 2022. Both photos were returned unsigned, but a signed 8X10 was included along with letter from Henry Cavill Management Team. http://surfmypictures.com/image/b63afd7317cc77bd/la8b5.html Uploaded with http://surfmypictures.comsurfmypictures http://surfmypictures.com/image/b63afd7317cc77bd/5xxix.html Uploaded with http://surfmypictures.comsurfmypictures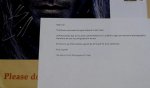 ---

发表评论 | 评论 (6)
---
Henry Cavill RTS - November 21st, 2021
I sent a request for a signed photo on 11/9/21 and received the RTS on 11/20/21. Address used: Henry Cavill C/O The Garcia Companies 9300 Wilshire Blvd. Suite 308 Beverly Hills, CA 90210-3221 http://surfmypictures.com/image/1abcb5b738015756/7u6bc.html

---

发表评论 | 评论 (6) | 「退回寄信人」

---
Henry Cavill success - June 20th, 2021
Sent Sept 20 2020 Received June 18 2021 Garcia Companies 9300 Wilshire Blvd. Suite 308 Beverly Hills, CA 90212-3221 http://surfmypictures.com/image/9df6a292b9af297b/amh4p.html

---

发表评论 | 评论 (1)
---
Henry Cavill SUCCESS - March 29th, 2021
sent: Oct 2020 recv'd: Mar 29, 2021 Sent SASE, LoR and two (2) 8x10 photos (Witcher & Superman) to Henry Cavill c/o United Agents Ltd. 12-26 Lexington Street London, UK W1F 0LE Received my two (2) photos back unsigned but received one (1) pre-signed photo and letter from agency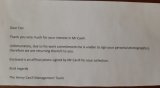 ---

发表评论 | 评论 (4)
---