Boston Red Sox亲笔签名照片 (第9页共20页):


Fred Lynn Success (MLB, Boston Red Sox) - June 9th, 2016
On 6/7/16 I received my SASE back in the mail with 2 baseball cards that i had enclosed, unsigned, along with a signed index card from MLB great Fred Lynn that he included.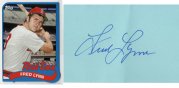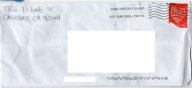 ---

发表评论 | 评论 (1)
---
Koji Uehara Success (MLB) (Boston Red Sox) - May 23rd, 2016
Got this card back signed from the Red Sox Yawkey way address on 5/17. Thanks Koji, no other Sox sign from the address as far as I can gather. Thanks!

---

发表评论 | 评论 (1)
---
Koji Uehara (Boston Red Sox Closer) Success - September 26th, 2015
On 9/25/15 I received 2 photos back autographed by Red Sox closer Koji Uehara from the Fenway Park address. He's a great closer, 2013 ALCS MVP, and very cool to sign through the mail when most MLB stars will not and charge high fees at shows.


---

发表评论 | 评论 (1)
---
Dustin Pedroia Red Sox fail (Boston Red Sox) - June 16th, 2015
Sent 2 cards to the Red Sox 2nd baseman during spring training.. Today I got back an envelope from the Red Sox and inside were my cards (unsigned) a postcard of Dustin with a fake signature and a letter saying he appreciates his fans but is too busy to sign... They even kept my stamped return envelope for some reason.. yes it would have fit in their bigger envelope..
---

发表评论 | 评论 (1)
---
David Ortiz success TTM....sort of (Boston Red Sox) - June 15th, 2015
I sent him a LOR, SASE and photo on 3/6/15 to the Red Sox spring training address and received today (6/15/15) my unsigned photo and a signed card. Oh well at least I got something back.


---

发表评论 | 评论 (1)
---