Boston Red Sox亲笔签名照片 (第14页共21页):


Boston Red Sox Fan Pack Success! - January 1st, 2013
Sent an email requesting a fan pack on December 17, 2012 with my mailing address. Received a fan pack on December 31, 2012 including: A pocket schedule of the 2013 season, an autographed (not PP) oversized card by Daniel Nava with "Philippians 4:13" written on it (which is awesome), two stickers, and lastly, a bag of dirt from Fenway Park. Also got a letter from the Fenway Park ambassador. Photos of fan pack and envelope: - Close up of oversized card: - Close up of Fenway dirt: -



---

发表评论 | 评论 (6)
---
Joe Sambito... (Former MLB pitcher) Boston Red Sox - December 8th, 2012
Joe Sambito, Former MLB pitcher, Astros, Red Sox. Sent: 11/17/12… Rec: 11/27/12… 10 days!! Sent 3 cards, LOR, SASE to: Joe Sambito 23 Modesto Irving, CA 92602-0929



-->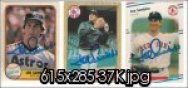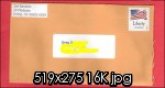 ---

发表评论 | 评论 (3)
---
Red Sox player Daniel Nava success (Boston Red Sox) - November 13th, 2012
I had sent 2 different requests to Daniel, one in the beginning of the season and one more towards the middle. Ironically enough, I got both back on the same day. The envelopes are postmarked form Sacramento, so the team must have sent the fan mail back to his house. Address used: Daniel Nava Boston Red Sox 4 Yawkey Way Boston MA Pics:



---

发表评论 | 评论 (1)
---
Bobby Doerr of the Boston Red Sox & HOF Member X2 - October 9th, 2012
Sent LOR/ 2 pictures and SASE to Mr. Bobby Doerr on 9/24/12. On 10/5/12 I received my pictures back signed with his HOF inscription. Great success from a Red Sox legend. Bobby Doerr 94449 Territorial Hwy Junction City, OR 97448-9326 USA
---

发表评论 | 评论 (1)
---
Mark Melancon (Boston Red Sox) success! - September 14th, 2012
On 9/4/12, I sent a letter, a card, and SASE to Mark Melancon c/o Boston Red Sox Fenway Park 4 Yawkey Way Boston, MA 02215 On 9/13, I received my card back, personalized and signed in red sharpie, but a little smeared. Sorry, no scan.
---

发表评论 | 评论 (1)
---