Lauren Cohan亲笔签名照片 (第1页共2页):


The walking Dead Lauren Cohan "Maggie" success - July 21st, 2014
Sent SASE and picture on 7-1-14 to: Lauren Cohan c/o The walking dead Raleigh Studios Atlanta 600 Chestlehaurst Rd. Senoia, GA 30276 returned 7-21-14 signed to my daughter and me you can see my pictures on twitter at cavewv one of my favorites sent letter and picture to everyone on the show this is the first to return. There only at the Atlanta Studio address until mid November figured good time to catch them all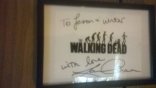 ---

发表评论 | 评论 (10)
---
Lauren Cohan Failure (RTS) - April 7th, 2013
I received it back yesterday with RTS.

Address used: Lauren Cohan Agency for the Performing Arts L.A. 405 S Beverly Drive Beverly Hills, CA 90212-4425 USA
---

发表评论 | 评论 (3)
---
Lauren Cohan Success!! - October 24th, 2012
Sent a LOR, SASE and picture to Lauren Cohan "The Walking Dead - Season 3" Raleigh Studios Atlanta 600 Chestlehurst Rd. Senoia, GA 30276 in early August and got it back today! -
---

发表评论 | 评论 (4)
---
Lauren Cohan (The Walking Dead) - October 19th, 2012
Sent: LOR+SASE+1photo Received: signed photo Data sent: August 2012 Received: 17.10.12r Address via The Walking Dead season 3 -

---

发表评论 | 评论 (3)
---
Lauren Cohan - Walking Dead success :-) - October 16th, 2012
Date sent : 12/06/2012 What sent : 2 8x10 adress used: Lauren Cohan The Walking Dead Raleigh Studios Atlanta 600 Chesltehurst Rd. Senoia, GA 30276 USA received : 16/10/2012 This is my sixth Walking Dead success via this adress

*NO ENVELOPE* - -


---

发表评论 | 评论 (9)
---