Billie Piper亲笔签名照片 (第2页共9页):


Billie piper success - September 26th, 2015
On 15th July 2015, sent actress billie piper one photo to sign, along with a stamped address envelope and today got back the photo back signed. sent: 15th July 2015 Received: 26th September 2015 Billie Piper P.O. Box 7861 Bournemouth BH1 9YS UK Sorry no scan.
---

发表评论 | 评论 (3)
---
Billie Piper Success! - July 9th, 2015
On 08/03/2015, I sent a LoR, SAE and two 6x4 photos to: Billie Piper P.O. Box 7861 Bournemouth BH1 9YS UK Today (09/07/2015 -so just over 4 months later) I received both of my photos signed. Despite it not being personalised, I'm pleased with this success - and it comes days after she answered a question of mine in the #AskBillie twitter event! The photos can be viewed on my Instagram account: https://instagram.com/p/46aX97IMd5/ TTM Successes: Tom Hiddleston, Andrew Scott, Sam Claflin, Emilia Clarke, David Tennant, Blake Harrison, Ant & Dec, The League of Gentlemen (via Reece Shearsmith),Natalie Dormer, Ian McKellen, Charles Dance, Bradley James, Lara Pulver, Billie Piper and Peter Capaldi (PP)

---

发表评论 | 评论 (5)
---
Billie Piper success! - June 24th, 2015
sent a letter to Billie 2 months ago, received 6/24/15 address used : Billie Piper P.O. Box 7861 Bournemouth BH1 9YS UK photo:

---

发表评论 | 评论 (4)
---
Billie Piper Success (Doctor Who) - March 20th, 2015
I sent to Billie Piper on 8th November 2014 and 4 months later on 20th March 2015 got these two nice photos, I screengrabbed them from the 50th Anniversary Special (Day of the Doctor) The address is Billie Piper PO Box 7861 Bournemouth England BH1 9YS here are the pics and a pic of the envelope together with received pics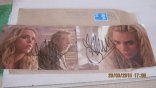 ---

发表评论 | 评论 (5)
---
Billie Piper - Success - March 20th, 2015
Great Reply from Billie. Sent:18-11-14 Rec'd:20-3-15 Sent to: Billie Piper P.O. Box 7861 Bournemouth BH1 9YS UK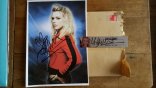 ---

发表评论 | 评论 (2)
---