Albert Brooks亲笔签名照片 (第2页共2页):


Albert Brooks - September 1st, 2012
Albert Brooks Sent: July 3, 2012 Response: August 31, 2012 Turnover: 59 days Used address in data base http://geraldscarpenter.wordpress.com/2 ... rt-brooks/


---

发表评论 | 评论 (3)
---
Albert Brooks Success (Simpsons Project) - July 7th, 2011
Hello all, long time no talk, been busy and replies have been really slow. Finally got another guest voice from the Simpsons Mr. Albert Brooks. He signed both my cards, and sent his on 8x10. He also kept my 4x6 envelope and paid for shipping on his own. Very nice of him to add his own picture and sign it to me. I sent a letter, 2 4x6 custom cards, SASE about 11 months ago. Got it back yesterday. Pictures below. Address Used: Gursey, Schneider & Co. LLP 1888 Century Park East Suite 900 Los Angeles, CA 90067-1735 USA - -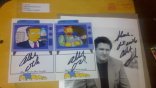 ---

发表评论 | 评论 (4)
---
Albert Brooks - Awesome Success x2! (LONG wait) - July 6th, 2011
I had written this one off and honestly had forgotten about it. lol.. I LOVE getting the ones that take forever. Like a Christmas present. lol.. Anyways heres the details.. Sent 12/11/09 - a sase, lor and "The In Laws" dvd cover Received 7/5/11 - My dvd cover signed PLUS a signed 8x10 promo aswell!

Dvd cover - http://sicksgraphs.webs.com/apps/photos ... =130753136 Promo - http://sicksgraphs.webs.com/apps/photos ... =130753136 Address used was probably the one in the db, BUT the return label has the following address on it. Albert Brooks 1888 Centruy Park East Suite 900 Los Angeles, CA. 90067

---

发表评论 | 评论 (7)
---