回信 (英语):


Sheila Hancock Success! - 2017年11月18日
I sent Sheila Hancock a LOR, SASE and two 6x4 photographs on the 26th of May 2017 to the address on the database (Sheila Hancock, Independent Talent Group Ltd., 40 Whitfield Street, London, W1T 2RH, UK). Just over a month later, on the 5th of July 2017, I received both photos signed.
---

发表评论 | 评论 (1)
---
SHEILA HANCOCK - SUCCESS!! - 2015年11月25日
82 year old Sheila Hancock is a highly accomplished British theatre, TV actress and author. Her career has spanned over 6 decades and she was appointed Commander of the Order Of The British Empire (CBE) in the 2011 New Year Honours List. I sat and watched the 1979 animated adaptation of The Lion The Witch & The Wardrobe with my 6 year old niece recently. This was a film I grew up watching and Sheila is the voice of The White Witch. I'd forgotten how great she sounded in this role and my niece was captivated by the character. Seeing the film again after all these years transported me right back to being a kid. At the end she asked me what the witch looked like in real life. I told her I'd find a photo for her. I thought I'd write to Sheila and ask if she wouldn't mind signing a photo of herself and The White Witch. The photo of The White Witch are a couple of screen-grabs I took from my favourite scene where she encounters a table full of woodland creatures who are celebrating their visit from Santa. She becomes so enraged, that in an instant, with one foul swoop of her wand, she turns them all to stone. I sent 4 page LOR, 2 A4 photos and SASE. Address: (taken from fanmail.biz) Sheila Hancock Independent Talent Group Ltd, 40 Whitfield Street, London W1T 2RH Sent: 28/10/2015 Received: 24/11/2015 Turnaround: 3 Weeks 6 Days. Received both photos autographed, one personally, plus a Thank You card from Sheila in my SASE. Very pleased with this success. Something to show my niece.




---

发表评论 | 评论​ (1)
---
Sheila Hancock - 2015年7月1日
Sent to Sheila Hancock (wife of the late John Thaw) on 26th May to the address in the database and today (July 1st) got this back .... Below are the photo and the envelope it arrived in, and the photo on its own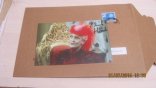 ---

发表评论 | 评论 (3)
---