---
粉丝邮寄地址:

Greensboro Grasshoppers
First National Bank Field
408 Bellemeade Street
Greensboro, NC 27401
美国

报告问题
相关资料:

First National Bank Field
(棒球場)
408 Bellemeade Street
Greensboro, NC 27401
美国
电话号码: (336) 268-2255
传真号码: (336) 273-7350
官方網站
笔记:

查看大地图


---
現在所属する選手 (2022シーズン):


Jack Carey (投手), Ricky DeVito (投手), Yoyner Fajardo (左外野手), Santiago Florez (投手), Matt Gorski (投手), Will Kobos (投手), Valentin Linarez (投手), Chase Murray (投手), Francisco Acuna (二壘手), Maikol Escotto (游擊手), Adrian Florencio (投手), Nick Garcia (投手), Jackson Glenn (三壘手), Abrahan Gutierrez (捕手), Hudson Head (外野手), Jack Herman (外野手), Jared Jones (投手), Dariel Lopez (游擊手), Wandi Montout (投手), Ernny Ordonez (三壘手), Endy Rodriguez (捕手), Sammy Siani (外野手), Sean Sullivan (投手), Eli Wilson (捕手), Eddy Yean (投手), Nick Dombkowski (投手), Logan Hofmann (投手), Jacob Gonzalez (三壘手), Fabricio Macias (外野手), Oliver Mateo (投手).
---
邮件和签名请求寄出方法:


请照以下指示寄出您的签名请求。如不需要回信,只需照地址发送邮件。定居美国者请把回邮信封(最低大小为220×110mm)请求信件和照片一起寄出。为防运送中照片受损,可加硬卡片一张。把信件送出。一般回复时间为三个月。如果您不住美国请添加几张国际回信券。收信对方可用国际回信券换取邮票。国际回信券可在邮政局购买。请勿把国际回信券贴在信封外(把回信券放进信封里)。更多国际回信券贴的资料可从查寻。从美国寄出信件的邮件收费资料。

---
回信 (英语):


Josh Naylor MiLB Success (Greensboro Grasshoppers) - 2017年3月18日
Sent LOR, SASE and TC to: Mr. Josh Naylor c/o Greensboro Grasshoppers NewBridge Bank Park 408 Bellemeade St. Greensboro, NC 27401 Received my card back signed and personalized. Sent: 7/5/16 Received: 3/18/17 Uploaded with ###://surfmypictures.com:surfmypictures Uploaded with ###://surfmypictures.com:surfmypictures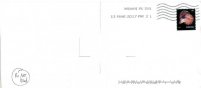 ---

发表评论 | 评论 (5)
---
Guilford Grasshopper success (Greensboro Grasshoppers' masco - 2012年3月3日
On 2/21/12, I sent a letter and SASE to the Greensboro Grasshoppers front office. My seven year old son is a baseball fanatic and his first pro game was to watch the Grasshoppers when we were visiting family in Greensboro, NC in 2006. I bought a set of team cards as a memento. Now, my son and I are trying to get as many cards from that team signed as we can. Three of them were for mascots, so I sent those cards to the front office. Today, we received all three in the mail unsigned, but with a wonderful letter from the front office and cards of their new mascots (It seems two of our mascots were no longer with them team). They also had Guilford Grasshopper sign one of the new cards. Now if we could just get the players from that team to sign - We are waiting on fifteen of them to come back, have been able to get leads on ten more and ten others are out of baseball and unable to be located. Can't wait to see how this all pans out. Oh, I didn't post the envelope because I lost it already. Sorry.
---

发表评论 | 评论​ (1)
---