回信 (英语):


Lisa Hammond (Eastenders) Success! - 2017年4月29日
Hello, After sending out autograph requests to most of the Eastenders cast, today I another Eastenders autograph - this time, it was from Lisa Hammond, who plays Donna Yates in the show. I sent a LOR (in a larger envelope with several others) and an SAE to the Eastenders studio address and received a personally signed cast card a few months later!

Sent: 20/1/17 Received: 29/4/17 Address Used: Lisa Hammond Eastenders BBC Elstree Centre Clarendon Road Borehamwood Hertfordshire WD6 1JF http://surfmypictures.com/image/76f53a4f21e6dc39/sferb.html:http://surfmypictures.com/photo/76f53a4f21e6dc39/sferb/aqH3J7uy.jpg-large.jpeg Thank you!

---

发表评论 | 评论 (1)
---
Lisa Hammond success ( Eastenders) - 2014年6月16日
I sent a letter and SAE to Lisa as well as to 7 other cast members in one envelope on: 2nd June 2014, and today I recieved this signed and personalized photo back from her.

address i used was: Eastenders, BBC Elstree Centre, Clarendon Road, Borehamwood, Herts WD6 1JF Here is the pic: - Uploaded with ###://surfmypictures.com:surfmypictures

---

发表评论 | 评论​ (1)
---
Lisa Hammond (Donna Yates - Eastenders) Success :) - 2014年6月15日
Heey

Sent Lisa an LOR May 2nd 2014, and I received a signed cast card June 9th 2014

Address used, EastEnders, BBC Elstree Centre, Clarendon Road, Borehamwood, Herts, WD6 1JF UK. Photo - - Back of photo - - Envelope - -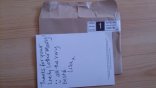 ---

发表评论 | 评论 (1)
---